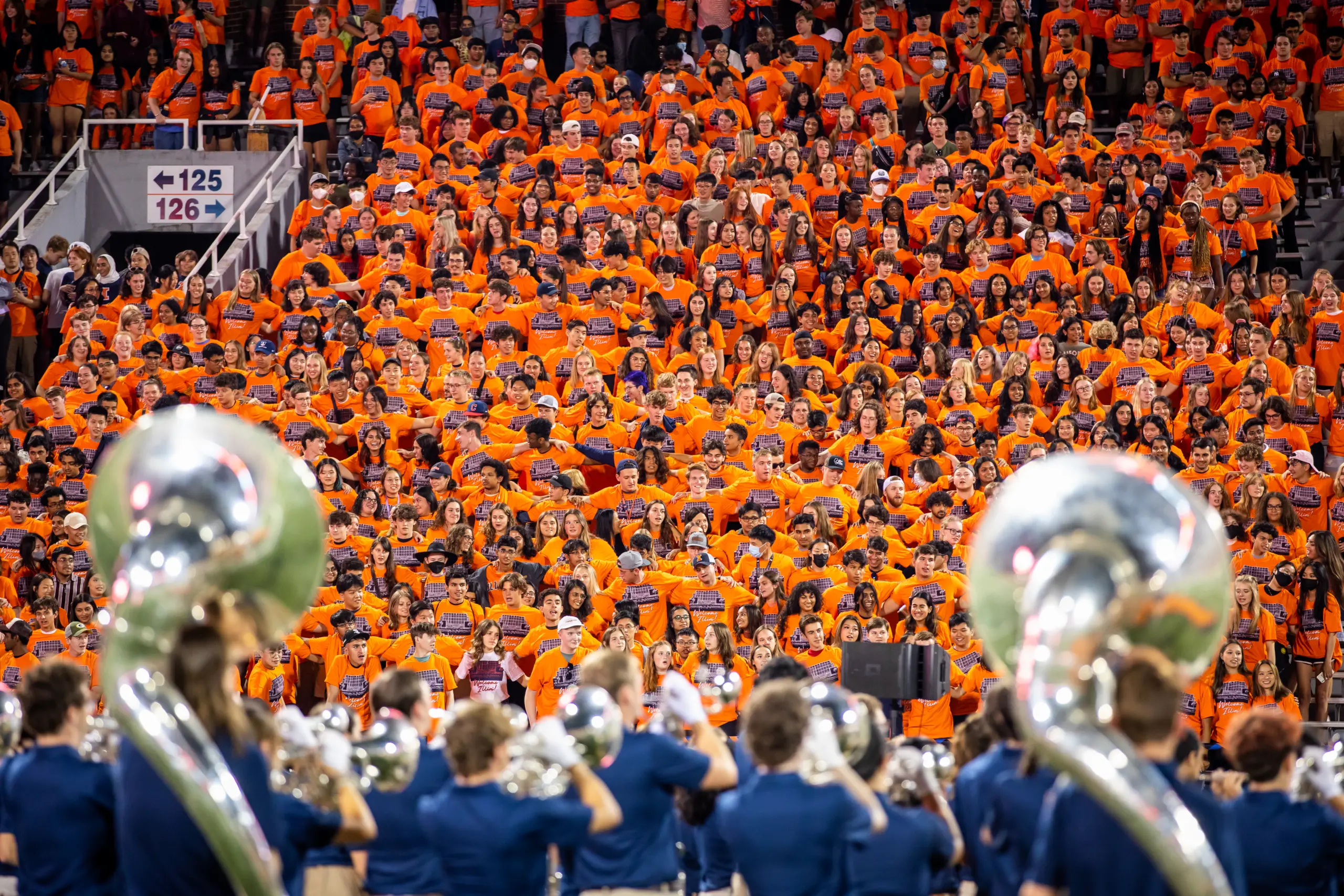 History & Tradition
STATEMENT ON DIVERSITY, EQUITY, ACCESS, AND INCLUSION
The University of Illinois Marching Illini regards diversity, equity, and access as core values integral to guiding our progress toward excellence. We embrace a broad and comprehensive concept of diversity that serves as a springboard toward mutual understanding. We appreciate diversity as a strength and intentionally cultivate an inclusive climate in our daily endeavors as faculty, staff, and students.
We are committed to respecting differences; accepting multiple perspectives; and striving to identify, disrupt, and rectify bias, prejudice, and oppression in our classrooms and community.
LAND ACKNOWLEDGEMENT
We begin today by acknowledging that these spaces stand on the traditional territories of the Peoria, Kaskaskia, Piankashaw, Wea, Miami, Mascoutin, Odawa, Sauk, Mesquaki, Kickapoo, Potawatomi, Ojibwe, Menominee, Ho-Chunk, and Chickasaw Nations. These lands carry the ongoing stories of these Nations and their struggles for survival and identity.
The Marching Illini acknowledges the peoples of these lands, as well as the histories of dispossession that have allowed for the growth of this institution. We share a responsibility to reflect on and actively address these histories and the role that this university has played in shaping them. The Marching Illini is committed to moving beyond these acknowledgements, toward building deeper relationships and taking actions to promote equity for Indigenous peoples.
CULTURE
The University of Illinois Marching Illini has zero tolerance for any activity that would be considered hazing or harassment. As the Nation's Premiere College Marching Band, we have served as a role model for programs across the country and this philosophy continues today. This standard applies to how we treat one another and all members of the band. No person has to earn their position or membership in the band beyond the audition process that is stated on our website, regardless of age, sex, instrument or year in school. We take great pride in the culture and atmosphere that is constantly being guided and developed daily by YOU, our students.
The culture we are creating as well as the image we want to promote both on and off the field happens daily. There is no place for the use of degrading language, participating in unnecessary activities, unwelcome nicknames, or other acts that would be considered hazing. We have zero tolerance for any hazing activities as well as not adhering to University and even more specific, Marching Illini policies. The punishments for violating these policies range from suspension to expulsion from the Marching Illini.
We have extremely intelligent and fantastic students at the University of Illinois. The culture we have and continue to create is healthy, safe, and supportive of all members of the Marching Illini. This does not happen overnight and certainly does not sustain itself. It is something that we, and programs around the country, must address and work on daily so that our students understand the culture that is acceptable both on and off the field. We, college marching bands, are the biggest ambassadors for our great colleges and universities across the country! As a member of the Best Band in the Land, hold yourself to a higher standard and continue to PAY IT FORWARD!
GET INVOLVED
The Marching Illini DEIA committee is a student-led committee comprised of Marching Illini members interested in promoting a more diverse, inclusive and equitable Marching Illini experience for all members. The committee meets monthly to consider, recommend, and coordinate approaches which proactively improve various aspects of our culture including band engagement, recruitment, education, curriculum, and service.
The students benefit from DEIA-related training, as desired, and consultation and support from the Office of Diversity, Equity, and Inclusion along with Marching Illini faculty and staff.